Chilton Care International
Short Effective Online Courses
FAST TRACK AUTOMATION..
A very warm welcome to the Chilton training programme and family.
WhatsApp 'training' to +27798426599
Browse our courses
View our Facebook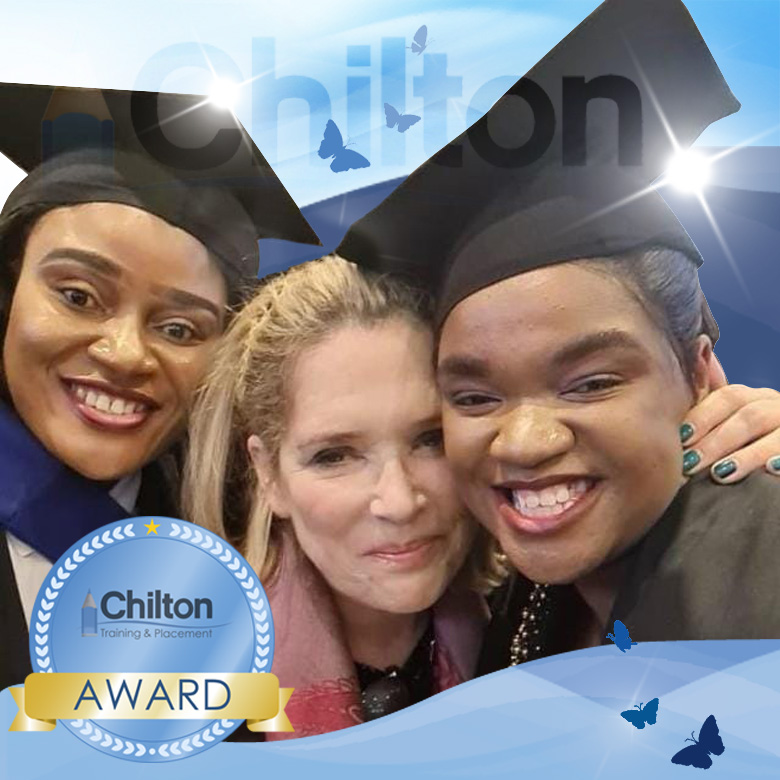 Chilton Special extended into 2023 – due to the high demand for cheaper costs, Chilton courses
– International Standards –
Choose any two courses for R1200
Or one course for R900
Do your course and then take the quiz at the end when you've finished listening to the audios.
Do not press the 'Complete quiz' button until you have finished studying.
Do:
✅ Check your email address carefully to ensure it is correct. Go into your inbox and check every letter and digit
✅ When registering, enter the number of your passport or id and *not the word 'passport' or 'ID'
✅  Save your username and password in more than one place
✅ Download course course manual PDFs
✅ Download all your audios
Don't do:
❌ Don't submit an incorrect email address as we won't be able to send you your certificates if your email address is not correct
❌ Don't click the blue 'Complete course' button until you have finished studying and listening to your course audios
❌ Don't click the blue 'Complete course' until you have finished studying and listening to your course audios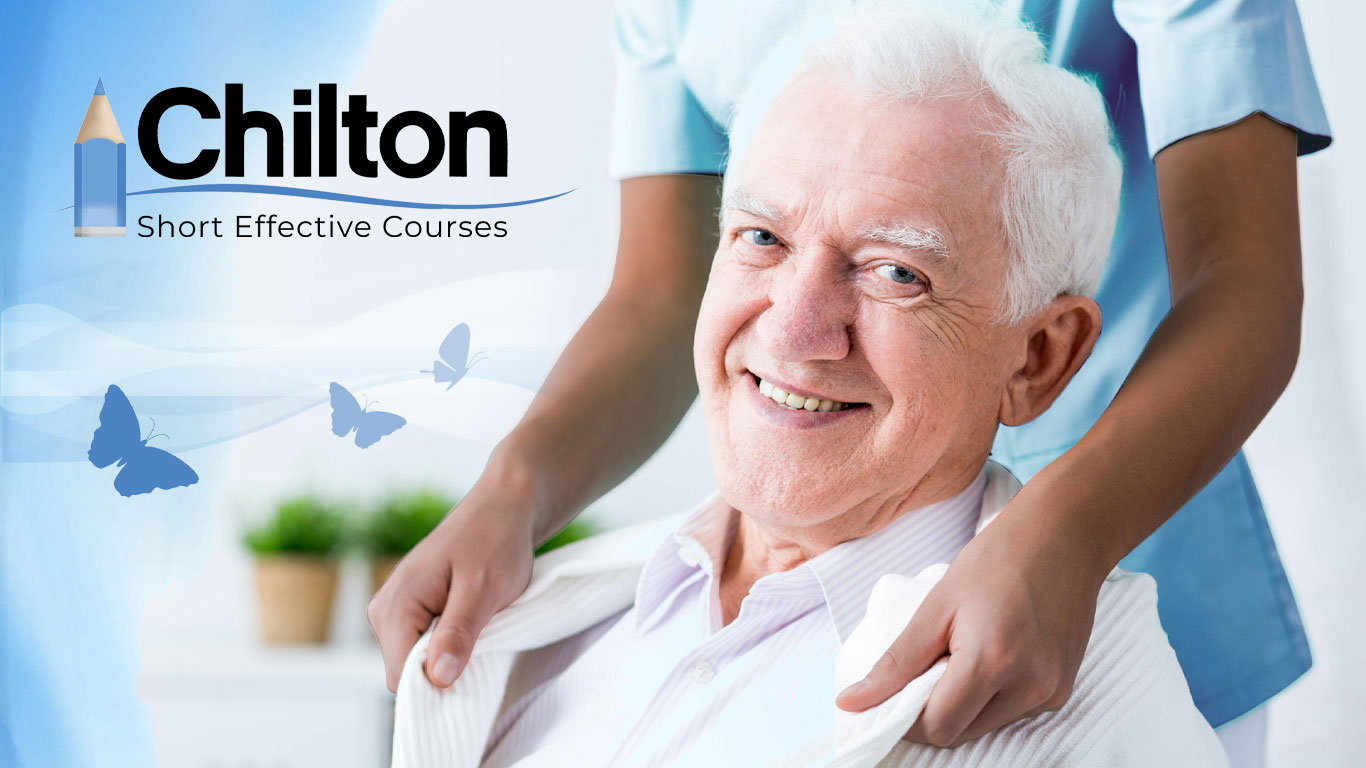 Elderly Care Assistant, Nurse Aide Course
R900
Elderly companion combo with First Aid  This course gives you more all round experience in how to be a excellent companion to an elderly person in their own home. This is akin to an elderly care worker, but has more knowledge on how to cook, prepare correct nutritionally based meals, crafts reading and general companion care.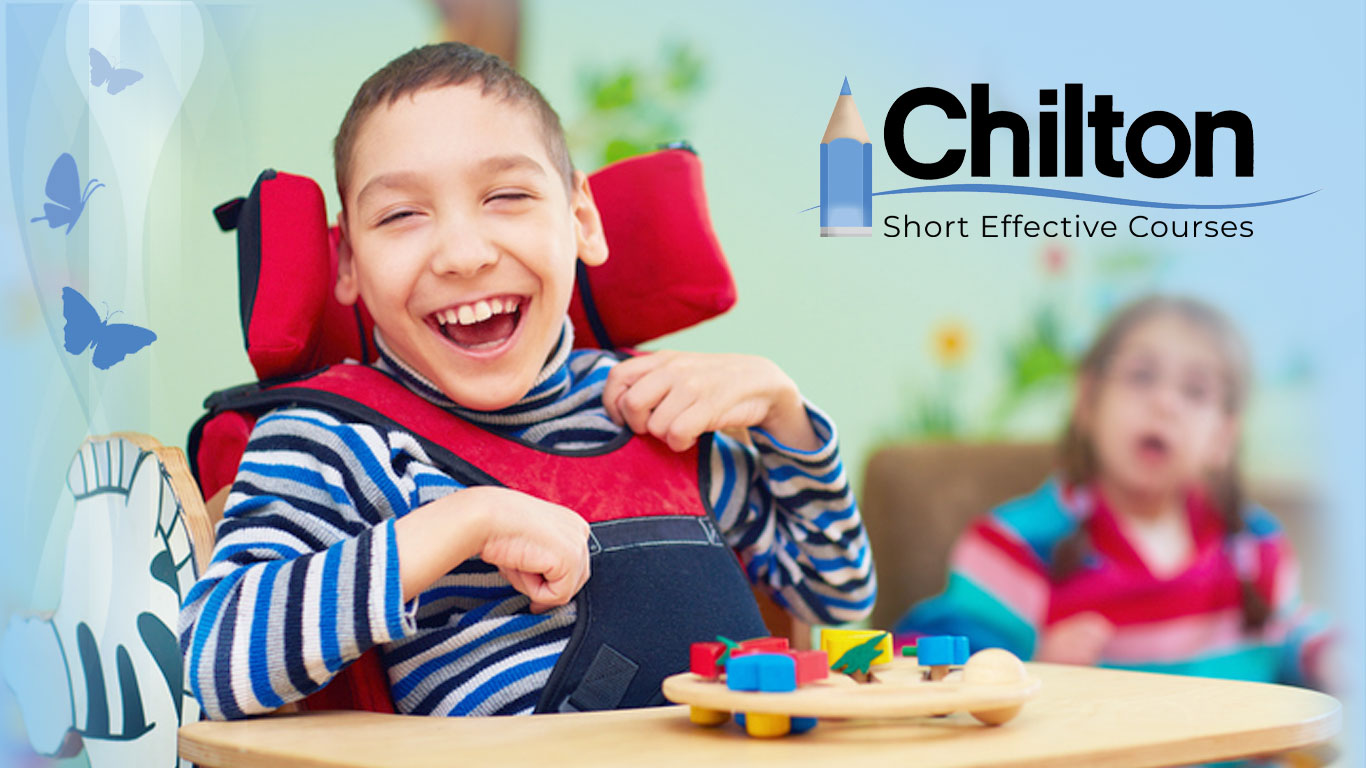 Special Needs, DISABILITIES Combo Course
R900
The A-Z basics: How to care for children and adults with Special Needs
Gain knowledge of Autism, Down's Syndrome, Learning Disabilities and much more.. Includes first aid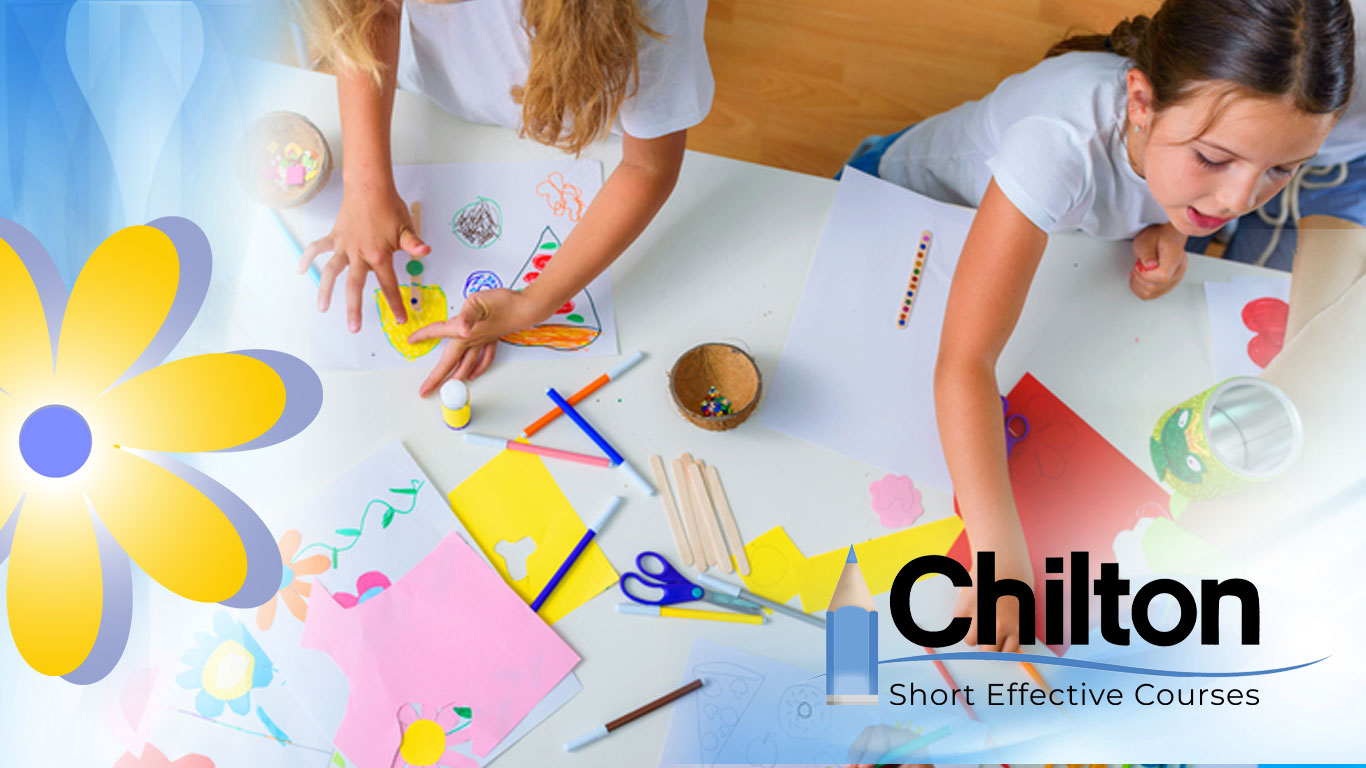 Craft and Activities Course
R900
Craft And Stimulating Activity Course, very necessary so you know how to keep children occupied and creative, leads to higher paid jobs… nannies in general lack these skills
How to register on our Student Portal
Step 1:
Click the button below
Step 2:
Scroll down to browse our courses. Click the 'Add course' button below the course you choose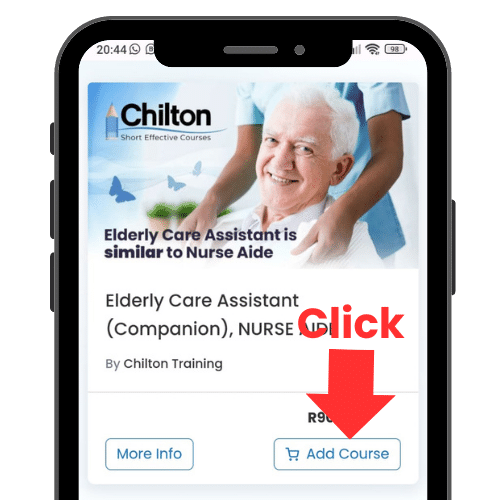 Step 3:
To get two courses for only R1200, click 'Add another course'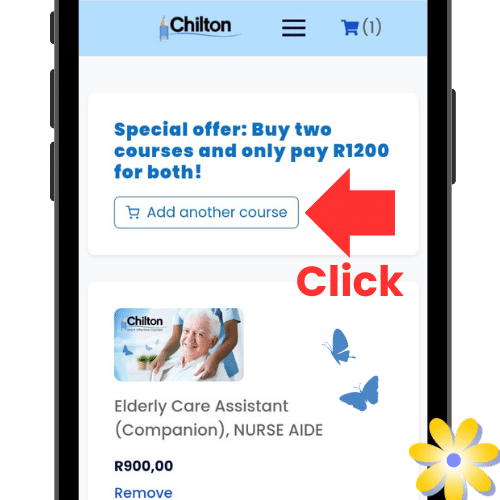 Step 4:
Scroll down and click the 'Add course' button below your second course choice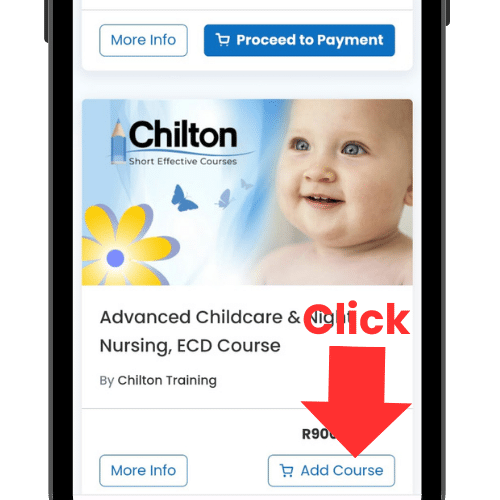 Step 5:
Scroll down and click 'Click to buy'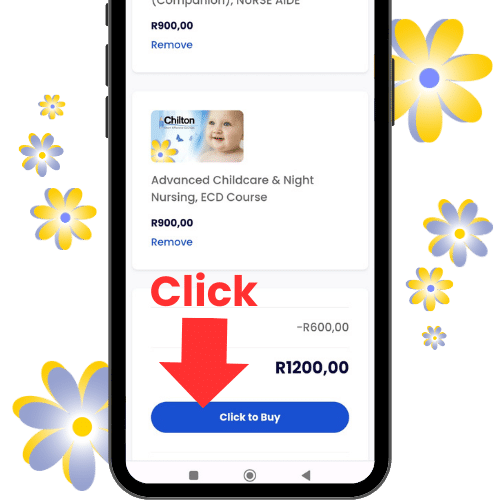 Step 6:
In order to buy your course/s, you will first need to register an account. The details you provide here will be used for your certification, so triple check them before clicking the 'Submit' button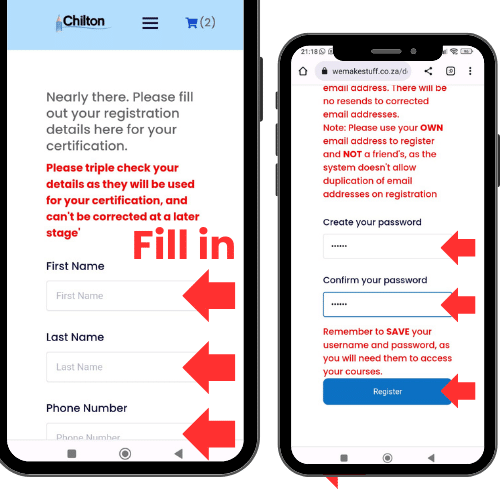 Step 7:
You will see your billing details. Scroll down and select a paygate (either Yoco or Paystack – Both support credit/debit card payments). Click the 'Complete payment' button to buy your course/s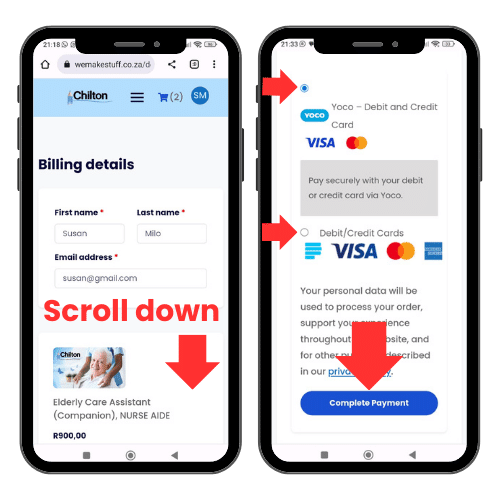 Step 8:
Fill in your card number, expiry date and CVC number using our secure payment gateway. Check every digit and when you are sure it is all correct, click 'Pay.' You may need to verify the payment on your banking app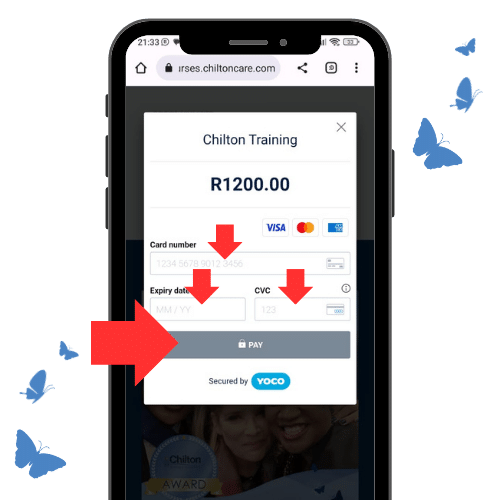 Step 9:
Once your payment is complete, you will see your courses. Stay with the portal.. Click the 'Start learning' button to begin your course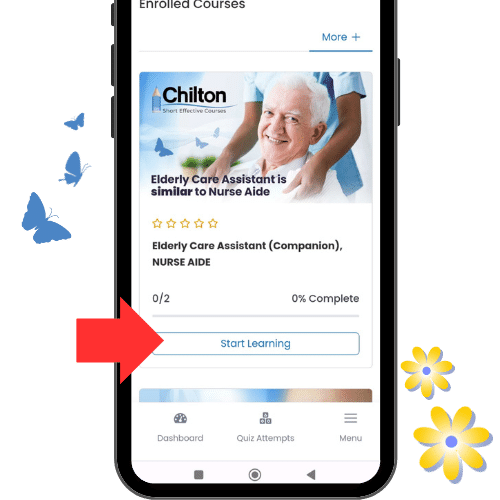 Step 10:
First read the important information at the top of the screen, then scroll down to see all your course material that you can download to your phone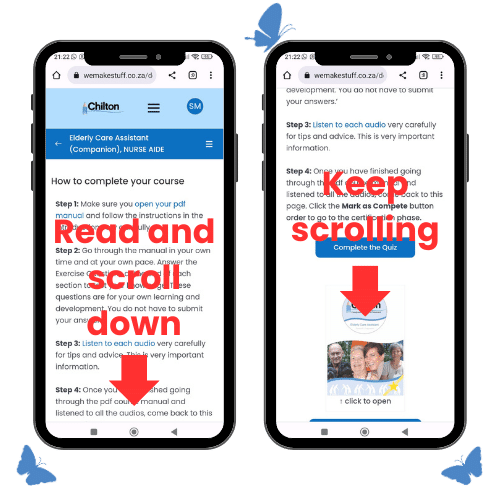 Step 11:
Once you've finished studying, come back to this page and click 'Complete the quiz'. Answer all five questions to complete your course and receive your certification and practical work experience paperwork via email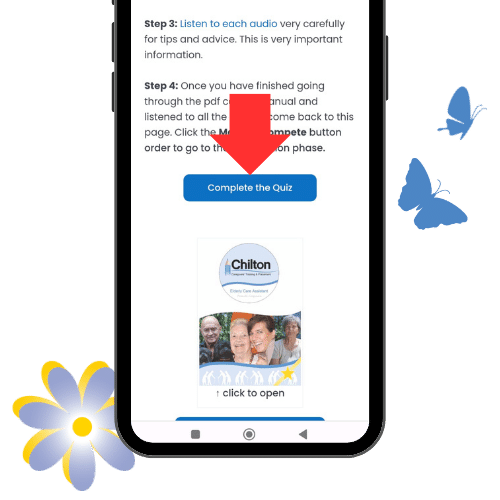 Study material
You get exactly the same material as you would if you were physically training.
Audios
Whatsapp students receive audios as well, which you don't get in physical class.
Certificates
You get your certification within a week to two weeks depending on your schedule
Graduation
You get to graduate. Go to the Chilton Au Pair and Nanny Training College Facebook page
Practicals
You get to do real physical practical work experience, part time or full time in your area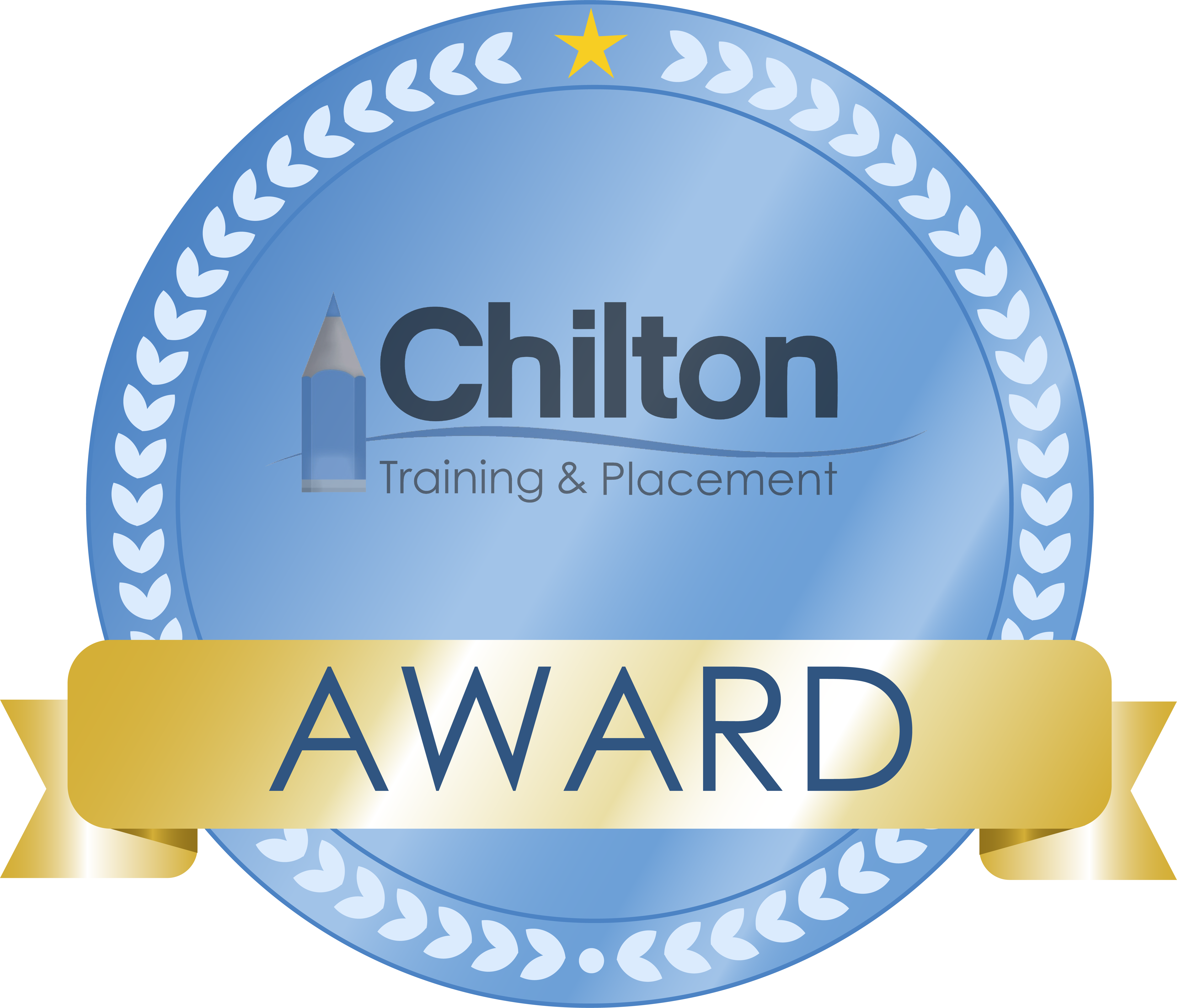 Recognised worldwide
Our history, and historic track record, references and testimonials go back decades.
It's so easy to find people who have successfully completed a Chilton course, our Facebook page has thousands of happy students, references and students who got jobs by following the Chilton methods.
Go to the Chilton au pair and nanny training college page Facebook page
and check out our long solid history..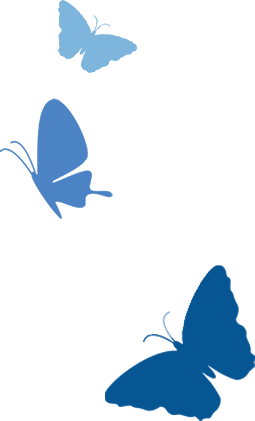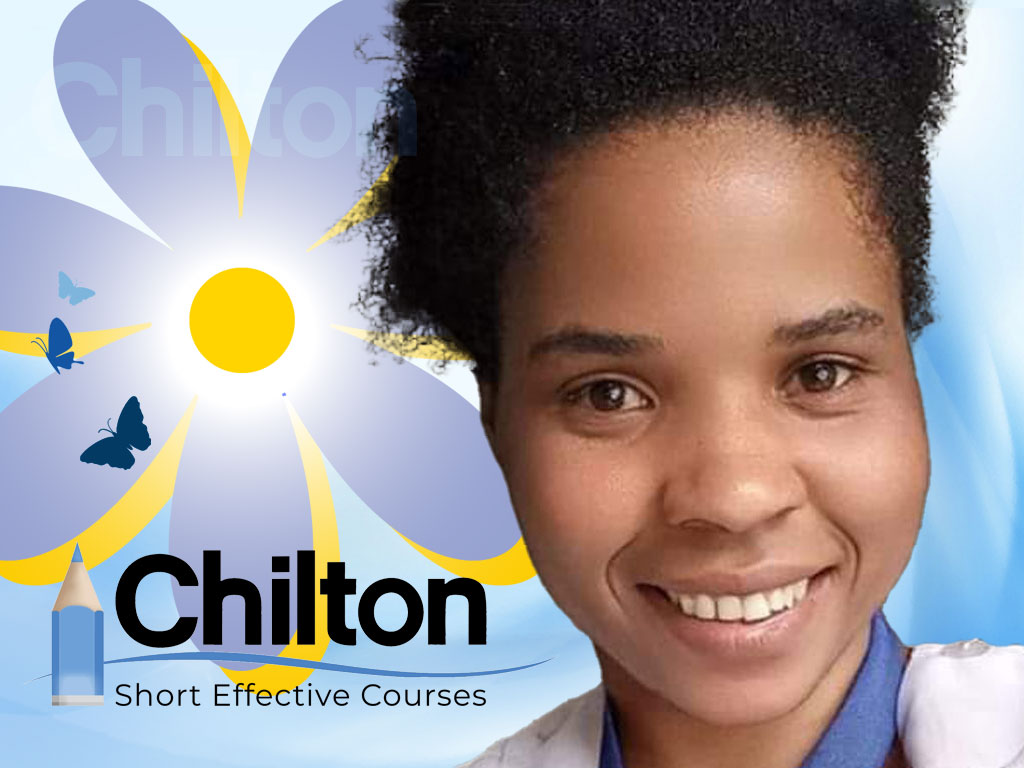 Mary
Good afternoon Chilton
I'm Mary, the Blue Chip nanny and caregiver.
I trained at your school in 2019 and I applied for a job in Carnival UK cruise where I am going to work on the Queen Elizabeth 2 cruise ship.
I'm waiting for the process to be complete but I do already have my American visa.
Regards, Mary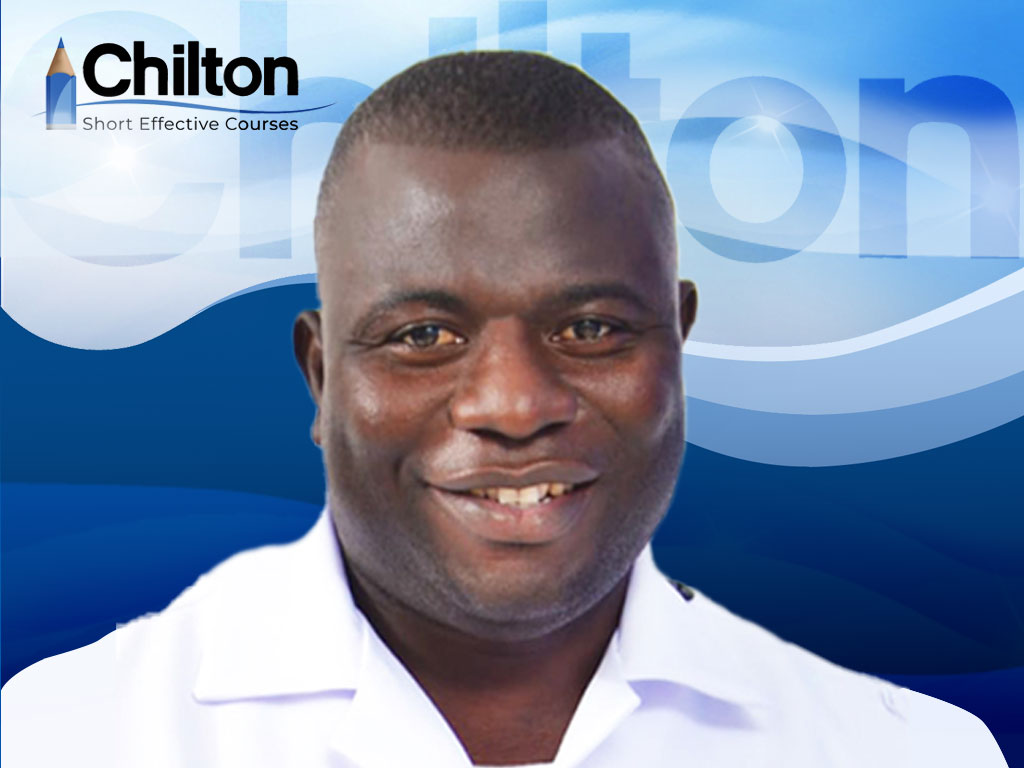 Ogunronbi
I have a friend who has a medical company so I went with her today to conduct some tests for their staff, so I could gain valuable insight and experience..  
So can she write in my logbook.  
I am currently with 'The Heaven Old Age Home' in Woodstock 
Thank you for the good work. May God reward you bountifully because I see other students from other schools the way they are treated and I from your great citadel stand out.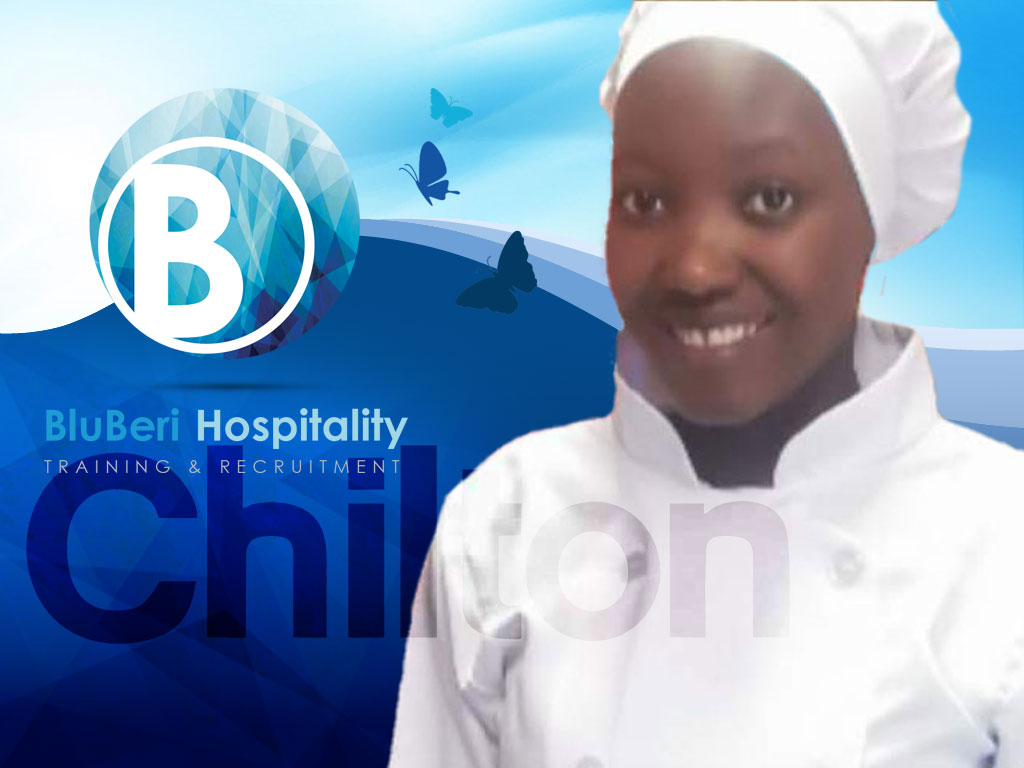 Vicky
Hi Chilton, I'm Vicky Musungamera, your November 2021 student. I am very grateful for Chilton and BluBeri Hospitality.
I did the Chef Assistant course and Au Pair Nanny, and this week I started my practicals at Panarotti's Pizza and Pasta restaurant in Mitchell's Plain, Cape Town. I am really enjoying my practicals and I am learning new things each and every day. I am very happy and believe in myself that I am going far with this Chef Assistant certificate.
I want to thank you so much…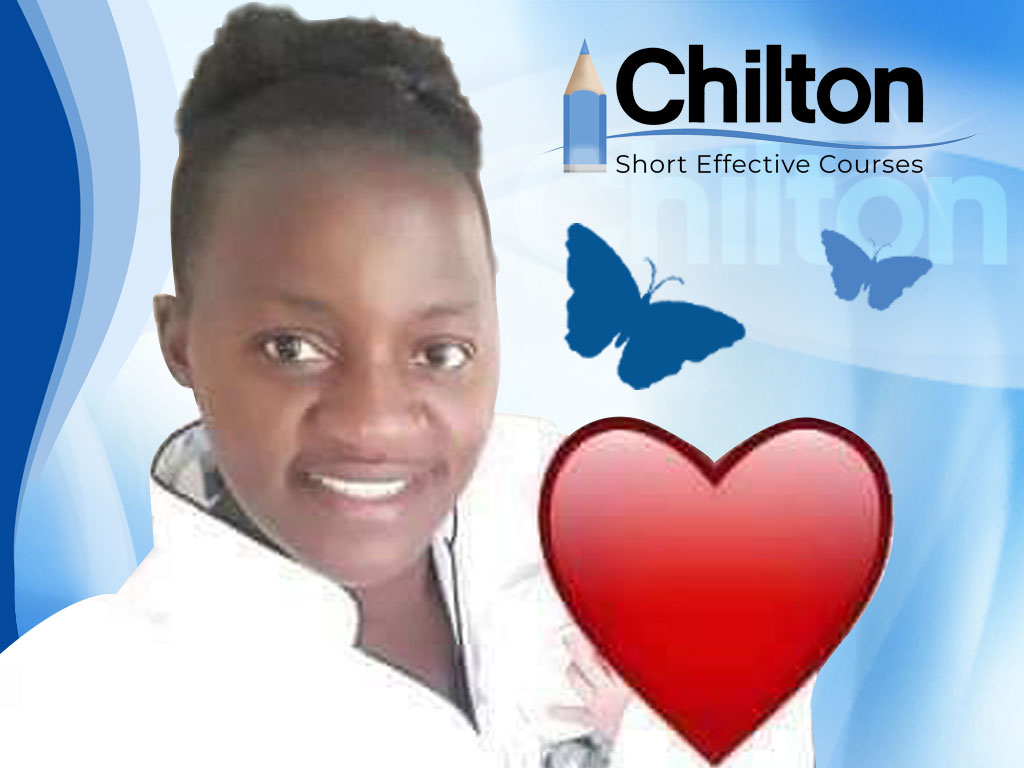 Chilton student
My life has been transformed through Chilton. I came for training in 2017.
I got a new job after training and I told myself for the next 2 years I'm going to practice what I learned at Chilton, so I worked October 2018 till March 2020, but September 2019 I got a night nursing job till March that was 6 months. When the baby was sleeping right through, they offered me a day job which I started in August. I'm not driving, just looking after kids and cooking healthy meals for them and over time my salary has increased.
Viva Chilton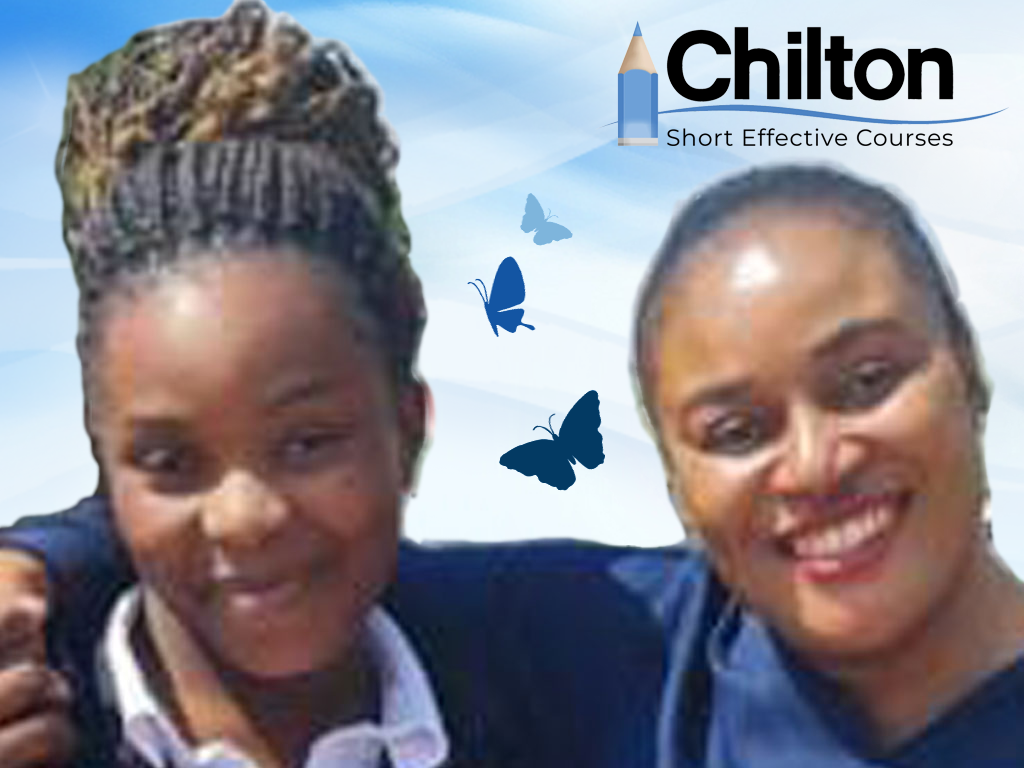 Blessing
Good day mam, hope you are doing okay.
I just want to let you know that I am done with my practicals and they have just hired me and my other Chilton student where we were doing our practicals 🙏🏻🙏🏻 
I am really happy all thanks to you 🥳
Click on the '+' to see the answer to your question..
Will I get a job?
Our job assistance is built into our course work. it's very important that you follow our audios advice exactly. You'll be fine.
Trust the process.
Where are you based?
We were based in Our Lady of Lourdes Catholic Church, Rivonia Road, Sandton, Johannesburg and the Holy Spirit Centre, 109A Coronation Road, Maitland, Cape Town, however we have gone online, since March 2020 due to Covid. We are staying online. We are not reopening the campus.
Can I come and see you at your office?
We are only online, therefore we do not have a physical address.
Are Chilton certificates recognised overseas?
In the past 17 years Chilton has seen many of its students successfully get jobs overseas through various methods and avenues around the world.
Is Chilton recognised under the South African Nursing Council?
Chilton courses do not fall under the nursing council sector.
Our courses are primarily focused on elderly care companions that also undertake meal planning, cooking and creative hobbies with the elderly persons.
All Chilton courses are short courses, focused on soft skills based in the domestic environment. Though many of our students have been hired here in facilities and overseas.
How long is the course?
Students do this in your own time and at your own pace entirely.. A few days to a few weeks.
What is the difference between Elderly Care Assistant/Nurse Aide and Special Needs?
The Elderly Care Assistant, Nurse Aide Course deals with frail elderly persons, not disabilities.
The Special Needs Course deals with disabilities, e.g. physical, emotional and intellectual challenges the adult or child may have. It is not an elderly care course.
When can I start?
Once we get proof of payment, you'll start the same day.
Can I do a course if I am working full-time?
Yes, our courses can be taken full time or part time, depending on your schedule. You study in your own time, at your own pace.
What do I need for the course?
No requirements. We will need proof of payment along with your full name and ID no or passport no and email address. We accept any type of passport, your own country ID or asylum.
How do I get my original certificates?
The certificates you receive via email are original, meaning you print for the first time. Original means first print, not a copy. You get original certificates to print for the first time.
How do I print my certificates and practical work experience paperwork?
Go to a good printing shop/internet café. For SA students, we recommend Postnet for good quality printing.
Certificates: Ask for A4 colour and print on thin grade white card. We recommend printing at least two sets of your certificates and laminating one set to keep as your first print.
Practical Work Experience Paperwork and Testimonial Letter: Print in colour on normal A4 typing paper. You will need these for your practicals and job applications. Keep them in a file for future use.
Always attach copies of your certificates with your updated CV and typed references when applying for jobs.
How will I graduate?
All students are welcome to attend either Johannesburg or Cape Town graduations. Graduation is limited to these two main cities only. These are held 4 times a year. It's a choice.
Graduations are posted on our Facebook page, Chilton Au Pair and Nanny Training College. Scroll down to view the latest graduation information and dates.
When is graduation?
The dates are posted on our Facebook page Chilton Au Pair and Nanny Training College.
We strongly recommend that all students open their own Facebook account, as many jobs are accessed through Facebook groups, as well as news from Chilton.
Can I graduate if I haven't completed my practicals?
Where can I get a uniform?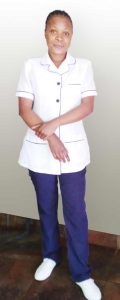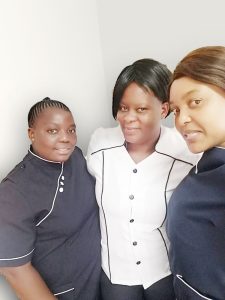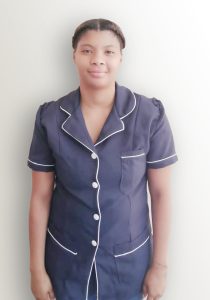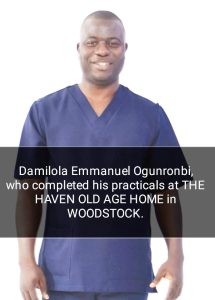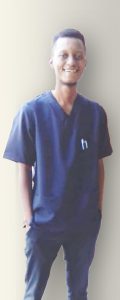 Google uniform shops closest to where you live. They are stocked country wide.
You must never approach a facility without your uniform on as that will give the wrong impression.
Get your course now so you can graduate soon..
Go to the Chilton Au Pair and Nanny Training College Facebook page for information on our current graduation ceremony
Your
exciting journey
starts with
Chilton